Monte Cristo Corgi's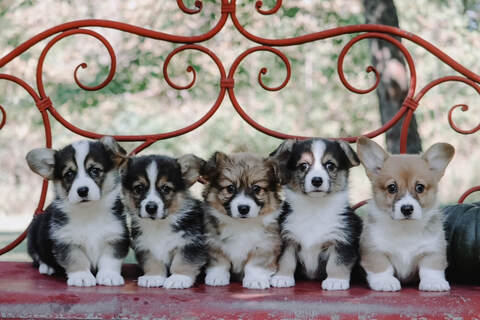 ​

October 2022

Beautiful
Pembroke Welsh Corgi
​ puppies available!

Text or call
​989-763-0132

montecristokennel@gmail.com


---
---
A dog will teach you unconditional love. If you can have that in your life, things won't be too bad.
— Robert Wagner
---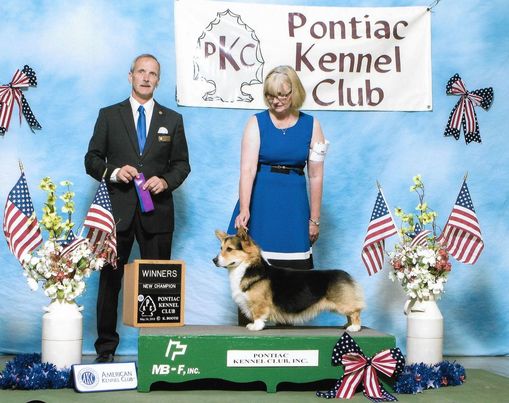 Congratulations Jay!

AKC Champion!!


Amsburgs Own Man In Black (Jay)

He is a beautiful young male.....

AKC
DNA'd
Dm Clear
PRA Clear
VWD clear


---
_
Happiness is a warm puppy. ~Charles M. Schulz
_
Puppies available with excellent temperaments that will be wonderful to own whether they go to a show, performance or companion homes.
Before leaving our nest all our puppies are:
Vet health checked ~ Vaccinated ~ De-wormed ~ Socialized ~ AKC registered~
~Health guaranteed~
Call or email for information Visitors are welcome!!!
989-763-0132

Send email: MonteCristoKennel@gmail.com

---
Information:

The

Pembroke Welsh Corgi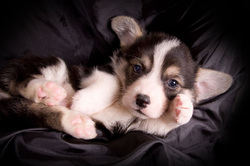 Low-set, strong and sturdily built, the Pembroke Welsh Corgi gives an impression of substance in a small space. He is one of the most agreeable small house dogs, as well as an avid competitor in many dog sports, including conformation, herding and obedience. The Pembroke Corgi is a separate breed from the Cardigan Corgi, possessing a shorter body and straighter, lighter boned legs. His ears are pointed at the tip and stand erect, and he has a short tail. The coat can be red, sable, fawn, black and tan with or without white markings.
The Pembroke welsh Corgi is one of two dog breeds known as Welsh Corgis that originated in Pembrokeshire, Wales. These herding dogs are believed to be descended from Swedish Vallhund dogs that came to Wales with the Vikings. The phrase "corgi" translates to "dwarf dog" in Welsh. Originally bred for herding sheep and cattle, they have proven themselves as excellent companion animals and are outstanding competitors in sheepdog trials and agility. Corgis are becoming more popular in the USA and rank 23rd in AKC registrations.

Traits: Like most herding breeds, they are active, intelligent, and athletic dogs despite their shorter legs. The short legs may seem to be a disadvantage, but they can run and jump just as well as any other dog of comparable size. Though still sometimes used as a working dog, today they are more commonly kept as companions. They are happy, loving, and eager to please. Pembroke Welsh Corgis are intelligent and quick thinkers, which can make them easy to train, but their desire to please means that they thrive on praise.

Appearance: A Pembroke is between 10 and 12 inches (250 to 300 mm) tall at the withers (tallest point in the shoulders) and weighs no more than 30 lb (15 kg); dogs in peak condition weigh about 27 pounds (12 kg) for the male and the females are about 2 pounds (1 kg) lighter. Pembroke Welsh Corgis can be red, sable, fawn, or black and tan with or without white markings on the legs, chest, neck, muzzle, underneath, and as a narrow blaze on the head. Too much white is considered a fault in show dogs. Historically, the Pembroke was a breed with a natural bob tail (very short tail). Due to the advent of docking, the trait was not aggressively pursued, with breeders focusing instead on other characteristics, and the tail artificially shortened if need be. Given that some countries are now banning docking, breeders are again attempting to select for dogs with the genes for natural bob tails. Corgis have a short undercoat as well as a longer thicker overcoat. These coats shed continuously all year round, with extensive seasonal shedding occurring at least twice each year (as well as after the weaning of pups in the intact females).


---